Earl Nightingale (March 12, 1921 – March 28, 1989) was an American radio personality, writer, respected speaker and author, dealing mostly on the subjects of human character development, motivation, excellence and meaningful existence; so named as the "Dean of Personal Development." He was the voice in the early 1950s of Sky King, the hero of a radio adventure series, and was a WGN radio show host from 1950 to 1956. Nightingale was the author of The Strangest Secret, which economist Terry Savage has called "…One of the great motivational books of all time". …Read More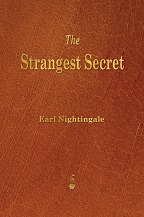 The Strangest Secret (Paperback)
44 Pages | ISBN: 978-1603865579

I'd like to tell you about the strangest secret in the world… Live this new way, and the floodgates of abundance will open and pour over you more riches than you may have dreamed existed.
Money? Yes, lots of it. But what's more important, you'll have peace. You'll be in that wonderful minority who lead calm, cheerful, successful lives. Start today. You have nothing to lose, but you have a life to win.
These ideas are not new they have been around for years maybe even centuries.
Maybe it was brought on because of the recent recession, or the economic and demographics of America or maybe its and underlying movement permeating the world.
People are looking for answers science and religion just haven't been able to answer adequately.
Questions such as why do some people have such fabulous wealth and others barely get by. Is there some outside force to blame? The Government, Wall Street, The 1%….who knows.

"All you need is the plan, the road map, and the courage to press on to your destination." ~ Earl Nightingale
---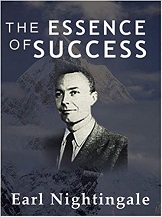 The Essence of Success (Paperback)
168 Pages | ISBN: 978-9562915731

Discover the secrets to a great life as Earl Nightingale expounds upon the key concepts of "attitude", "enthusiasm", "service", and "gratitude." Learn the great law of "rewards equal contributions", and how the amount of service you give determines your success in life. Successful people have one thing in common: A winning attitude. How the world treats us is a reflection of our attitude. If we put our minds and attitudes to work, we tend to get from life what we expect from it. Enthusiasm has been called "the God within", and enthusiastic people are the happiest and most interesting people in the world. Enthusiastic people can be spotted in a crowd on account of their energy, direction, intentionality and delight. Conversely, the dull-eyed plodders live life defensively, reacting to events rather than causing them.
All rewards in life, tangible and non-tangible, come from making the best use of what we are in the SERVICE of others, and only to the extent that we serve others do we know the joy of living. There is a law operating at all times, whether we know and believe it or not: the Law of Rewards Equal Contributions. Our rewards in life will always be in direct proportion to our contribution. This is the law of all economics and of our well being. Finally, expressing gratitude activates the Law of Increase, for when we are grateful and use what we are good at in the service of others, we attract all we desire.

"Success is the progressive realization of a worthy goal or ideal." ~ Earl Nightingale
---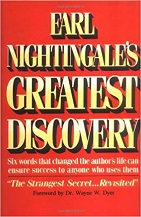 Earl Nightingale's Greatest Discovery (Hardcover)
182 Pages | ISBN: 978-0396089285

Earl Nightingale rose from poverty to become the most highly recognized authority on success and personal development. He was also a radio commentator whose program was broadcast daily around the world for more than 40-years.
As a successful broadcaster and inspirational leader, Earl Nightingale shares his surefire yet little known secrets for success.
He discusses the meaning of success, identifies the most common obstacles to achieving success, and explores the noted author and radio broadcaster's time-tested formula for making things happen.

"We can let circumstances rule us, or we can take charge and rule our lives from within." ~ Earl Nightingale
---
Have you read any of Earl Nightingale's books? Which one was your favorite? Let us know in the comments below!