Most people go through life never learning about the fundamentals of money. Robert T. Kiyosaki brings a unique look into the financial world that most people do not learn about in school. He discusses most people's financial mindset and explains how you can become financially free.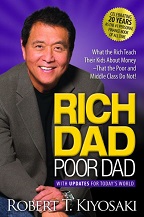 Rich Dad, Poor Dad (Paperback)
336 Pages | ISBN: 978-1612680170

"Rich Dad, Poor Dad" chronicles the story of two dads, the author's own father, who was the superintendent of education in Hawaii and who ended up dying penniless, and the author's best friend's father (and Kiyosaki's mentor growing up), who dropped out of school at age 13 and went on to become one of the wealthiest men in Hawaii.
Kiyosaki uses the story of these two men and their varying financial strategies to illustrate the need for a new financial paradigm in order to achieve financial success in the new millennium. The book explodes the myth that you need to earn a high income to be rich and explains the difference between working for money and having your money work for you.

"You have to be smart. The easy days are over." ~ Robert T. Kiyosaki
---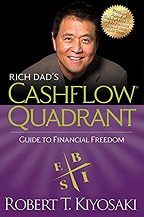 Rich Dad's CASHFLOW Quadrant (Paperback)
360 Pages | ISBN: 978-1612680057

Rich Dad's CASHFLOW Quadrant is a guide to financial freedom. It's the second book in the Rich Dad Series and reveals how some people work less, earn more, pay less in taxes, and learn to become financially free.
CASHFLOW Quadrant was written for those who are ready to move beyond job security and enter the world of financial freedom. It's for those who want to make significant changes in their lives and take control of their financial future.
Robert believes that the reason most people struggle financially is because they've been spent years in school but were never been taught about money. Robert's rich dad taught him that this lack of financial education is why so many people work so hard all their lives for money… instead of learning how to make money work for them.
This book will change the way you think about jobs, careers, and owning your own business and inspire you to learn the rules of money that the rich use to build and grow their wealth.

"When people are lame, they love to blame." ~ Robert T. Kiyosaki
---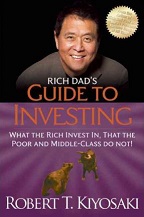 Rich Dad's Guide to Investing (Paperback)
416 Pages | ISBN: 978-1612680217

Investing means different things to different people… and there is a huge difference between passive investing and becoming an active, engaged investor. Rich Dad's Guide to Investing, one of the three core titles in the Rich Dad Series, covers the basic rules of investing, how to reduce your investment risk, how to convert your earned income into passive income… plus Rich Dad's 10 Investor Controls.
The Rich Dad philosophy makes a key distinction between managing your money and growing it… and understanding key principles of investing is the first step toward creating and growing wealth. This book delivers guidance, not guarantees, to help anyone begin the process of becoming an active investor on the road to financial freedom.

"If you want to go somewhere, it is best to find someone who has already been there." ~ Robert T. Kiyosaki
---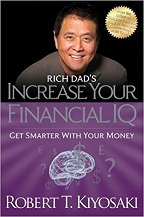 Rich Dad's Increase Your Financial IQ (Paperback)
240 Pages | ISBN: 978-1612680651

In 1997, Robert's book Rich Dad Poor Dad stunned readers stating, "Your house is not an asset." As howls of protest went up around the world, the book went on to become an international bestseller and the #1 personal finance book of all time.
Rich Dad Poor Dad is not a book on real estate. It is a book about the importance of financial education. Rich Dad Poor Dad was written to prepare you and your loved ones for the financial turbulence Robert's rich dad saw coming.
In 2007, as homes declined in value or were lost to foreclosure, millions of homeowners painfully discovered the wisdom of words of Robert's rich dad. Today we are all aware that a home can be a liability. Today we know a home can go up or down in value. Today, we all know a person can lose money investing in the stock market. Today we all know our money can go down in value and that even savers can be losers.
This is why financial intelligence is more important today than ever before. In a world of financial turbulence, your best asset is financial IQ.

"The size of your success is measured by the strength of your desire; the size of your dream; and how you handle disappointment along the way." ~ Robert T. Kiyosaki
---
How many of these books have you read or already own? Let us know in the comments below!