Sir Richard Charles Nicholas Branson is an English business magnate, investor, and philanthropist. He is best known as the founder of Virgin Group, which comprises more than 400 companies.
Virgin is one of the world's most irresistible brands and has expanded into many diverse sectors from travel to telecommunications, health to banking and music to leisure. There are now more than 100 Virgin companies worldwide, employing approximately 60,000 people in over 50 countries. ..Read More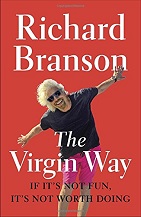 The Virgin Way (Paperback)
400 Pages | ISBN: 978-1591847984

While building the Virgin Group over the course of forty years, Richard Branson has never shied away from tackling seemingly outlandish challenges that others (including his own colleagues on many occasions) considered sheer lunacy. He has taken on giants like British Airways and won, and monsters like Coca-Cola and lost.
Now Branson gives an inside look at his strikingly different, swashbuckling style of leadership. Learn how fun, family, passion, and the dying art of listening are key components to what his extended family of employees around the world has always dubbed (with a wink) "the Virgin Way."
This unique perspective comes from a man who dropped out of school at sixteen, suffers from dyslexia, and has never worked for anyone but himself. He may be famous for thinking outside the box—an expression he despises—but Branson asserts that "you'll never have to think outside the box if you refuse to let anyone build one around you."

---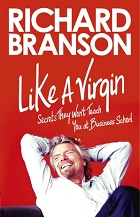 Like a Virgin (Paperback)
352 Pages | ISBN: 978-1591845683

It's business school, the Branson way.
Whether you're interested in starting your own business, improving your leadership skills, or simply looking for inspiration from one of the greatest entrepreneurs of our time, Richard Branson has the answers.
Like a Virgin brings together some of his best advice, distilling the experiences and insights that have made him one of the world's most recognized and respected business leaders.
In his trademark thoughtful and encouraging voice, Branson shares his knowledge like a close friend. He'll teach you how to be more innovative, how to lead by listening, how to enjoy your work, and much more.
In hindsight, Branson is thankful he never went to business school. Had he conformed to the conventional dos and don'ts of starting a business, would there have been a Virgin Records? A Virgin Atlantic? So many of Branson's achievements are due to his unyielding deter­mination to break the rules and rewrite them himself. Here's how he does it.

---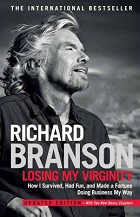 Losing My Virginity (Paperback)
416 Pages | ISBN: 978-0812932294

"Oh, screw it, let's do it."
That's the philosophy that has allowed Richard Branson, in slightly more than twenty-five years, to spawn so many successful ventures. From the airline business (Virgin Atlantic Airways), to music (Virgin Records and V2), to cola (Virgin Cola), to retail (Virgin Megastores), and nearly a hundred others, ranging from financial services to bridal wear, Branson has a track record second to none.
Losing My Virginity is the unusual, frequently outrageous autobiography of one of the great business geniuses of our time. When Richard Branson started his first business, he and his friends decided that "since we're complete virgins at business, let's call it just that: Virgin." Since then, Branson has written his own "rules" for success, creating a group of companies with a global presence, but no central headquarters, no management hierarchy, and minimal bureaucracy.

---

Have you read any of these Richard Branson books? What is your all-time favorite Richard Branson book? Let us know in the comments below!