Zig Ziglar, America's most influential and beloved encourager and believer that everyone could be, do and have more, founded the Zig Ziglar Corporation in 1977. He influenced an estimated quarter of a billion individuals through his 33 books.
From the 33 books that Zig has written, here are 5 books on success that you should read. From these books you will learn how to achieve what you most desire in life and accomplish more than you ever dreamed possible.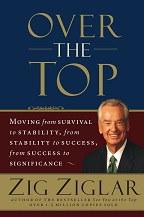 Over the Top (Paperback)
336 Pages | ISBN: 978-0785288770

You have what it takes to Go Over the Top!
Drawing on forty years as a world-class motivational speaker and author, Zig Ziglar identifies and outlines in his best-selling Over the Top precisely how to achieve what people desire most from life―to be happy, healthy, and reasonably prosperous and secure. As Ziglar delves into the hows and whys of living life with values, character, honesty, integrity, and sensitivity, you'll learn to be more at peace with yourself and accomplish more with your skills and abilities.
Over the Top will persuade you to develop what you have in order to be the best you can be. What you can do just may be astonishing!

"If you don't see yourself as a winner, then you cannot perform as a winner." ~ Zig Ziglar
---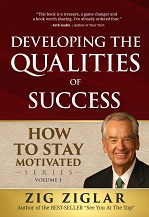 Developing the Qualities of Success (Paperback)
174 Pages | ISBN: 978-1613397442

How to Stay Motived: Developing the Qualities of Success was created with a focus on helping people succeed. Zig had a passion for helping people become their best and this program was designed to help you grow personally and professionally in four critical areas: qualities, abilities, skills, and attitudes.
By focusing on these 4 core areas, you gain characteristics of success, professionalism, excellence, and perhaps the very best return of all: improved overall performance. Developing the Qualities of Success will cover:
Planning, preparing and expecting to win
Taking the first step to a brighter future
Motivation, the key to accomplishment
Identifying the qualities of success
Developing the qualities of success
Maintaining a winning attitude
In this valuable program Zig encourages you to remember, "You were designed for accomplishment. You were engineered for success. You were endowed with the seeds of greatness." Apply these winning steps from the motivational master himself to build a better, more productive and satisfying life for yourself and what you do for yourself will naturally extend to your family. Developing the qualities of success will help you maintain your motivation, through all the ups and downs of life. Join millions who have used the success principles from Zig Ziglar and we will see you at the top!
How to Stay Motivated provides you with clear and proven techniques to use to enhance relationships, improve your self-image, set and achieve goals, and so much more! Learn how to apply these motivational qualities to achieve success in life. Apply these winning steps from the motivational master himself to build a better, more productive, satisfying life for yourself and your family. Change your picture and change every facet of your life.

"A goal properly set is halfway reached." ~ Zig Ziglar
---

Better Than Good (Paperback)
272 Pages | ISBN: 978-1591454007

The Ultimate Challenge: To Be Better Than Good
He has spent his life helping other people to realize their dreams and experience maximum success. Now comes Zig Ziglar's high-impact work that calls you to the passion, purpose, and practical tools that can ignite the peak performance you long for.
In the real-life stories Zig shares, drawn from nearly fifty years as a world-class motivational author, speaker, and businessman, you'll discover how others have risen above fear and failure to embrace the quality of life they were meant to have. Their experiences will teach you how to accomplish more than you ever dreamed possible, even as you learn:
The three pillars of the Better Than Good life
New discoveries that will motivate you for life
How to develop a strategic plan that accomplishes your goals
What often keeps good people from reaching the ultimate level of productivity and happiness
Ways to form better-than-good habits that can take you to new horizons of success… and much, much more!
Let the master of motivation help you clear your mind of failure-prone thinking, as together with Zig Ziglar, you redefine success and take hold of your dreams. Let him inspire you to be Better Than Good!

"You were born to win, but to be a winner, you must plan to win, prepare to win, and expect to win." ~ Zig Ziglar
---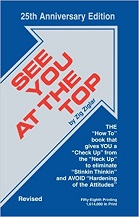 See You at the Top (Paperback)
288 Pages | ISBN: 978-8178090412

See You At The Top by Zig Ziglar is a motivation and self-help book. This bestseller is widely regarded as a true American classic. The book's basic tenet is simple- if you help a lot of people get what they want, it will always come back to benefit you and get you everything that you want in life. The book has served as a guide to generations and helped them to achieve personal success.
See You At The Top stresses on the value of a healthy self-image and teaches the reader how to build just that. The lessons and insights from this book are widely used by corporates, education institutes, government agencies, health institutions, as well as sales organisations. While we all know setting personal goals is essential to success, this book shows you how to set and achieve goals and illustrates the steps to self-perception and how to improve your attitude to your surroundings. See You At The Top stresses on the significance of honesty, loyalty, faith, integrity, and strong personal character.
See You at the Top provides step-by-step instructions on how to change the way you think about yourself and your surroundings. More than 800 human interest stories, one-liners, analogies, "how to" instructions, and humorous incidents hold your interest and give you food for thought on every page.

"Expect the best. Prepare for the worst. Capitalize on what comes." ~ Zig Ziglar
---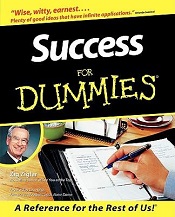 Success For Dummies (Paperback)
384 Pages | ISBN: 978-0764550614

Success For Dummies is a gold mine of startling insights and practical pointers on achieving success. No matter what your station in life, it can quickly put you on the road to the success you want and deserve. With wit, warmth, and loads of practical wisdom, Zig Ziglar helps you:
Find greater job satisfaction
Increase your income
Supercharge your career
Map a clear road to the top
Nurture good relationships at home and work
Earn the trust and admiration of everyone in your life
Find direction, purpose, and greater fulfillment
Packed with inspiring anecdotes and real-life success stories, Success For Dummies explores how your success is determined by the quality of your relationships. It helps you to improve communications with those who matter in your life. And it offers Zig's proven prescriptions for:
Understanding what you really want out of life
Setting clear, realistic goals
Getting motivated and maintaining a positive outlook
Developing a strategic plan and putting it into play
Measuring your progress with Zig's ten benchmarks
Achieving and maintaining optimal physical, emotional, and spiritual health
Developing fantastic friendships and a lifelong romance with your spouse
Building better employer/employee relationships
Making success a lifelong habit
Overflowing with the down-to-earth wisdom and can-do spirit that has inspired thousands of Zig Ziglar fans the world over, Success For Dummies is your blueprint for success.

"You don't have to be great at something to start, but you have to start to be great at something." ~ Zig Ziglar
---
Have you read any of these books on success or any other of Zig Ziglar's books? What is your all-time favorite Zig Ziglar book? Let us know in the comments below!