Here are 3 of Dale Carnegie's books that everyone should read at least once in their lifetime. Each of these books teaches invaluable information to help everyone on their journey to success!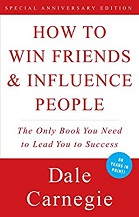 How to Win Friends & Influence People (Paperback)
288 Pages | ISBN: 978-0671027032

For more than sixty years the rock-solid, time-tested advice in this book has carried thousands of now famous people up the ladder of success in their business and personal lives.
Now this previously revised and updated bestseller is available in trade paperback for the first time to help you achieve your maximum potential throughout the next century!
Learn: The three fundamental techniques in handling people, the six ways to make people like you, the twelve ways to win people to you way of thinking, and the nine ways to change people without arousing resentment.

---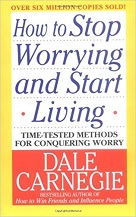 How to Stop Worrying and Start Living (Paperback)
320 Pages | ISBN: 978-0671035976

Learn how to break the worry habit — Now and forever!
With Dale Carnegie's timeless advice in hand, more than six million people have learned how to eliminate debilitating fear and worry from their lives and to embrace a worry-free future. In this classic work, How to Stop Worrying and Start Living, Carnegie offers a set of practical formulas that you can put to work today. It is a book packed with lessons that will last a lifetime and make that lifetime happier!
Discover how to: Eliminate fifty percent of business worries immediately, reduce financial worries, avoid fatigue — and keep looking young, add one hour a day to your waking life, and how to find yourself and be yourself — remember there is no one else on earth like you!
Fascinating to read and easy to apply, How to Stop Worrying and Start Living deals with fundamental emotions and life-changing ideas. There's no need to live with worry and anxiety that keep you from enjoying a full, active life!

---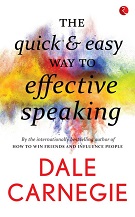 The Quick And Easy Way To Effective Speaking (Paperback)
273 Pages | ISBN: 978-8129140203

Good public speakers are made, not born – or so thinks Dale Carnegie, the pioneer of personal business skills. Yet business, social and personal satisfaction depend heavily upon a person's ability to communicate clearly. Public speaking is an important skill which anyone can acquire and develop. It is also the very best method of overcoming self-consciousness and building confidence, courage and enthusiasm.
This classic, well established title has been called 'the most brilliant book of its kind'. It takes you step by step through: Acquiring basic public speaking skills, building confidence, speaking effectively the quick and easy way, earning the right to talk, vitalising your talk, sharing the talk with the audience as well as organisation and presentation skills.
---
Which of these books have you read or already own? Do you have a favorite book by Dale Carnegie? Let us know in the comments below!