Jim Rohn was an American entrepreneur, author, and motivational speaker who many consider to be America's Foremost Business Philosopher.
He possessed the unique ability to bring extraordinary insights to ordinary principles and events. The combination of his substance and style still captures the imagination of those who hear or read his words. His success philosophies and influence continue to have worldwide impact.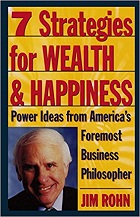 7 Strategies for Wealth & Happiness (Paperback)
176 Pages | ISBN: 978-0761506164

Some people believe that they have to choose between wealth and happiness. This is not true. Wealth and happiness spring from the same fountain of abundance. To unlock this fountain, this title offers you seven key strategies for success.
With this book, you'll discover the seven essential strategies you need for success:
Unleash the Power of Goals
Seek Knowledge
Learn the Miracle of Personal Development
Control Your Finances
Master Time
Surround Yourself with Winners
Learn the Art of Living Well
Author Jim Rohn's philosophy has helped millions change their lives for the better. Find out what it can do for you!

"Never wish life were easier, wish that you were better." ~ Jim Rohn
---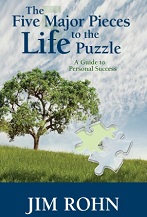 Five Major Pieces to the Life Puzzle (Paperback)
121 Pages | ISBN: 978-0939490028

It is our personal philosophy that establishes our individual attitude. It is our attitude that determines both the quantity and the quality of our level of activity. That activity produces a final and proportionate result, and the result provides the lifestyle that we live.
In this preeminent best-selling guide to personal success, Jim Rohn brings you ideas and insights in his inimitable style that provide a unique voice of hope, inspiration and answers for those in search of a better life. He provides substance and encouragement to all those who embrace the philosophy of "You can have more than you've got because you can become more than you are."

"Either you run the day, or the day runs you." ~ Jim Rohn
---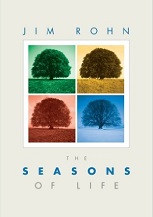 Seasons of Life (Paperback)
125 Pages | ISBN: 978-0939490004

This is a book of ideas and observations that attempts to place life, its events, purpose, opportunities and challenges into perspective.
Jim Rohn illustrates the parallels between life and the changing seasons. Based on the parable of the sower and the reaper, the narrative follows the seasons as they change without fail and discusses what we can do to utilize each season to get the greatest rewards. What to do in one season to ensure success in another season.
This book is especially great for those who are going through difficult times personality or financially, because it helps them see that this "winter" in their life will eventually give way to "spring".

"Take care of your body. It's the only place you have to live." ~ Jim Rohn
---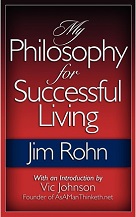 My Philosophy For Successful Living (Paperback)
64 Pages | ISBN: 978-0983841593

Before he passed away in December 2009, Jim Rohn had influenced more than 5 million people in all corners of the world. He was counted as a mentor by thousands including the likes of Tony Robbins, Les Brown, Harvey Mackay, Mark Victor Hansen and others.
Jim was one of the most powerful and memorable listening experiences ever because he could take timeless, ageless principles and present them in such a simple way.
Tony Robbins, who first met Jim Rohn when he was 19-years old, said Jim, "had a positive impact on me at a time in my life when I was first forming the philosophies that guide me today."
That positive impact continues today with this special edition of Jim's My Philosophy for Successful Living. It's Jim at his best and includes teaching like:
The American Economic Ladder and Girl Scout Cookies
The Philosophy of Performance and Productivity
Measuring Success in Your Financial House
Six Steps for Leading an Extraordinary Life

"Motivation is what gets you started. Habit is what keeps you going." ~ Jim Rohn
---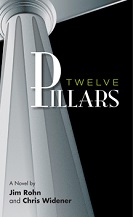 Twelve Pillars (Paperback)
127 Pages | ISBN: 978-0972626637

This novel by Jim Rohn and Chris Widener will inspire you to take your life to the next level and beyond. It will challenge and encourage you to become the best that you can be!
Twelve Pillars blends together the fundamental principles and teachings of Jim Rohn and The Jim Rohn One-Year Success Plan, and with the help of Chris Widener, those principles have been weaved into a unique tapestry of a fictional account of three characters – Michael, Charlie and Mr. Davis.
Here are a few of the lessons you will discover in the Twelve Pillars of Success:
Live a Life of Three-Dimensional Health
The Gift of Relationships
Achieving Your Goals and the Proper Use of Time
Surrounding Yourself with the Best People
Becoming a Life-Long Learner
Income Seldom Exceeds Personal Development
Communication Brings the Common Ground of Understanding
The World Can Always Use One More Great Leader
Leaving a Legacy

"Formal education will make you a living; self-education will make you a fortune." ~ Jim Rohn
---
What do you think of this list? How many of these books have you read or already own? Let us know in the comments below!