Napoleon Hill (October 26, 1883 – November 8, 1970) was an American author and impresario who cribbed freely from the new thought tradition of the previous century to become an early producer of personal-success literature. At the time of Hill's death in 1970, his best-known work, Think and Grow Rich had sold 20 million copies. Hill's works insisted that fervid expectations are essential to increasing one's income. Most of his books were promoted as expositing principles to achieve "success" …Read More
Here are 4 of Napoleon Hill's books on success that you should read. You should actually read all of his books, but this is a good place to start on the path to success. In his books, he shares advice and guides on setting your mind for success and riches.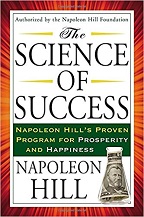 The Science of Success (Paperback)
256 Pages | ISBN: 978-0399170959

Rare writings from Napoleon Hill—perfect for the THINK AND GROW RICH fan in your life, or for aspiring followers of Napoleon Hill's philosophy.
The Science of Success is a collection of writings by and about Napoleon Hill, author of the most widely read book on personal prosperity philosophy ever published, Think and Grow Rich. These essays and writings contain teachings on the nature of prosperity and how to attain it, and are published here in book form for the very first time. This work is a must-have item for Hill's millions of fans worldwide!

"Don't wait. The time will never be just right." ~ Napoleon Hill
---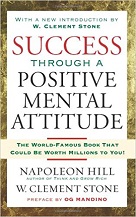 Success Through A Positive Mental Attitude (Paperback)
384 Pages | ISBN: 978-1416541592

Your mind has a secret invisible talisman. On one side is emblazoned the letters PMA (positive mental attitude) and on the other the letters NMA (negative mental attitude). A positive attitude will naturally attract the good and the beautiful. The negative attitude will rob you of all that makes life worth living.
Your success, health, happiness, and wealth depend on how you make up your mind!
When motivational pioneer Napoleon Hill and millionaire CEO W. Clement Stone teamed up to form one of the most remarkable partnerships of all time, the result was Success Through a Positive Mental Attitude, the phenomenon that proposed to the world that with the right attitude, anyone can achieve his or her dreams.
Now this remarkable book is available for the twenty-first century. You, too, can take advantage of the program that has brought success to generations of people seeking — and finding — a better way to live.

"The starting point of all achievement is desire." ~ Napoleon Hill
---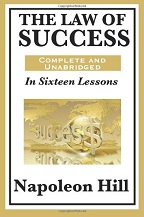 The Law of Success In Sixteen Lessons (Paperback)
548 Pages | ISBN: 978-1617201783

The Law of Success is the golden key to Hill's thought–his complete and unabridged mind-power method for achieving your goals. After interviewing dozens of industrialists, diplomats, thought leaders, and successful people from all walks of life, the young Hill distilled what he learned into these fifteen core lessons, organized with an introductory chapter, 'The Master Mind,' that serves as a primer to Hill's overall philosophy.
As Hill saw it, these lessons work as a "mind stimulant" that "will cause the student to organize and direct to a DEFINITE end the forces of his or her mind, thus harnessing the stupendous power which most people waste."
While future classics of Napoleon Hill would inspire millions of readers, there is no substitute for The Law of Success for everyone who wants to grasp the full range of Hill's ideas and tap their transformative power.

"Patience, persistence and perspiration make an unbeatable combination for success." ~ Napoleon Hill
---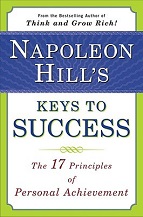 Napoleon Hill's Keys to Success (Paperback)
244 Pages | ISBN: 978-0452272811

Napoleon Hill summed up his philosophy of success in Think and Grow Rich!, one of the bestselling inspirational business books ever. A recent USA Today survey of business leaders named it one of the five most influential books in its field, more than 40 years after it was first published.
Now, in Napoleon Hill's Keys to Success, his broadly outlined principles are expanded in detail for the first time, with concrete advice on their use and implementation. Compiled from Hill's teaching materials, lectures, and articles, Napoleon Hill's Keys to Success provides mental exercises, self-analysis techniques, powerful encouragement, and straightforward advice to anyone seeking personal and financial improvement. In addition to Hill's many personal true-life examples of the principles in action, there are also contemporary illustrations featuring dynamos like Bill Gates, Peter Lynch, and Donna Karan. No other Napoleon Hill book has addressed these 17 principles so completely and in such precise detail. For the millions of loyal Napoleon Hill fans and for those who discover him each year, Napoleon Hill's Keys to Success promises to be a valuable and important guide on the road to riches.

"If you cannot do great things, do small things in a great way." ~ Napoleon Hill
---
Check out these 3 Napoleon Hill audiobooks you can listen to for free
Have you read any of these Napoleon Hill books? What's your all-time favorite Napoleon Hill book? Let us know in the comments below!