If you've never heard any of Zig Ziglar's recordings, you are missing out. Whether you're just starting out on the path to success or you've already made it, these recordings are gold for anyone looking to improve their life. Here are 5 Zig Ziglar audio recordings you should be listening to.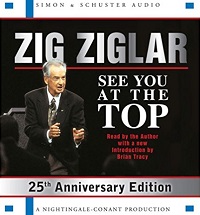 Ignite your passion for living and drive for success with one of the greatest motivational programs of all time! Become a winner among winners!
See You at The Top amuses, informs, inspires, delights, and motivates as only Zig can. Speaking to you as if you were a guest in his living room, Zig unfolds a proven, unbeatable philosophy for successful living based on self-confidence, traditional values, and uplifting thinking. You'll discover:
The secret to getting everything you want in life
How to be paid more for what you're doing
A way to get answers to questions you previously thought were unanswerable
Simple, easy-to-make changes that help you feel better about your life – every day
How to shield yourself from the negativism that surrounds us all
Seven steps you can take to get the most out of life
The harvest you reap by accepting yourself – reduced tension, better communication, and improved relationships
How to put your subconscious to work to get more of what you want, including improved health and greater success
And much, much more!
With a new introduction by Brian Tracy, the exclusive 25th anniversary edition of this classic program is a must for anyone who is serious about achieving true, lasting success across the entire spectrum of life.

---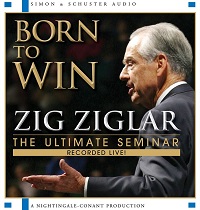 Zig Ziglar will reveal your surest path to success and help your untapped greatness become visible.
For more than 50 years, in a style that is unquestionably his own, Zig Ziglar has used his quick wit, down-home charm, and abundance of energy to inspire excellence in people throughout the world. In Born to Win, Zig's nonstop passion inspires and informs as Zig speaks to you as if you're sitting front-row center in his sold-out seminar. In Born to Win you'll learn:
To achieve balance by becoming a more complete person in seven key areas of your life
How to develop and maintain a winner's attitude and use it to achieve significant personal growth
How to build stronger professional and personal relationships using your own unique behavioral style
How to become a better leader, parent, and employee by learning the art of effective communications
And much more!
That's precisely what tens of thousands of people have done who had the fortune to attend Zig Ziglar's 25-year-running and perpetually sold-out Born to Win seminar. Now, you can experience the rewards of his legendary seminar in this time-saving, two-CD program designed inspire a whole new generation of achievers.

---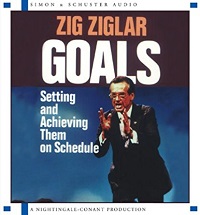 In Goals, bestselling author Zig Ziglar presents his dynamic seven-step formula for clearly defining your immediate and long-term goals…and then realizing your dreams. This step by step program is filled with inspiring stories from sports, business and science that demonstrate how to:
Begin with a set of specific written goals
Understand the reasons behind your ambitions
Identify the resources you need to achieve success
Develop a scheduled plan of action
You'll learn how to work around obstacles and change your strategies without changing your vision; how to become a team player, how to master your time; and how to set goals for everything you want in life.
Goals create motivation; motivation creates energy; energy helps make your dreams a reality. Take the first step toward reaching your aspirations and set your goals today!

---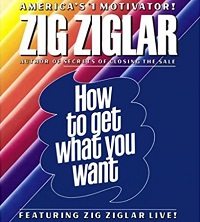 Irrepressible, enlightening — and extraordinarily successful — here's Zig Ziglar presented live during one of his electrifying public seminars.
This master motivator has adapted his proven techniques for everyone's use — and endless benefit.
One of the biggest excuses people don't set goals is they're not sold on the idea. Zig will sell you — fast! And convince you that goal-setting is the single most important step you can take on your new road to success. He offers a precise formula for doing just that. Complete with the inspiration to welcome the risks involved, his strategies for boosting your self-image will carry you to the top.
Filled with hilarious anecdotes, encouragement and wisdom, Zig Ziglar is the man everyone would want to invite for dinner. That is precisely the personal style he conveys in How to Get What You Want. You will find a dramatic change in your attitude and achievement once you have encountered the inimitable Mr. Ziglar.

---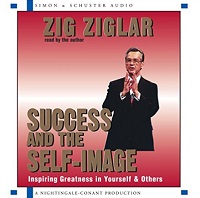 You are what you think you are! No one is better qualified to show you the secrets to developing a successful self-image than Zig Ziglar, a man who has overcome his own share of adversity to become one of the world's most popular and successful motivators.
In Success and the Self-Image, Ziglar tells you how to discover the secrets of creating and maintaining a positive self-image, including:
Identifying the characteristics of a poor self-image
Increasing your self-esteem
Creating healthy relationships
Linking success to the self-image
"You can change what you are…by changing what goes into your mind," says Ziglar. And he proves it in a specific, point-by-point presentation that is as entertaining as it is inspiring.
---
Have you listened to any of these audio recordings? What is your favorite Zig Ziglar audio recording? Let us know in the comments below!