John C. Maxwell is a #1 New York Times bestselling author, coach, and speaker who has sold more than 25 million books in 50 languages. In 2014 he was identified as the #1 leader in business by the American Management Association and the most influential leadership expert in the world by Business Insider and Inc. magazine. He has also been voted the top leadership professional in the world on LeadershipGurus.net for six consecutive years. As the founder of The John Maxwell Company, The John Maxwell Team, EQUIP, and The John Maxwell Leadership Foundation, he has trained more than 5 million leaders. ..Read More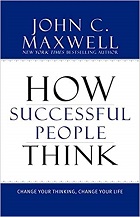 How Successful People Think (Hardcover)
160 Pages | ISBN: 978-1599951683

Gather successful people from all walks of life-what would they have in common? The way they think! Now you can think as they do and revolutionize your work and life!
A Wall Street Journal bestseller, HOW SUCCESSFUL PEOPLE THINK is the perfect, compact read for today's fast-paced world. America's leadership expert John C. Maxwell will teach you how to be more creative and when to question popular thinking. You'll learn how to capture the big picture while focusing your thinking. You'll find out how to tap into your creative potential, develop shared ideas, and derive lessons from the past to better understand the future. With these eleven keys to more effective thinking, you'll clearly see the path to personal success.
Full of interactive questions and space for readers to provide answers, as well as new material for readers to assess their current type of thinking, this workbook guides readers in applying the lessons they learned from How Successful People Think or the book which it was derived from, Thinking For A Change. Each of the eleven chapters will focus on one type of thinking, and contain a case study, critical thinking questions, a journal section, and an action plan of steps to help the reader create a personalized plan.

"The greatest mistake we make is living in constant fear that we will make one." ~ John Maxwell
---
Failing Forward (Paperback)
226 Pages | ISBN: 978-0785288572

Are some people born to achieve anything they want while others struggle? Call them lucky, blessed, or possessors of the Midas touch. What is the real reason for their success? Is it family background, wealth, greater opportunities, high morals, an easy childhood?
New York Times best-selling author John C. Maxwell has the answer: The difference between average people and achieving people is their perception of and response to failure.
Most people are never prepared to deal with failure. Maxwell says that if you are like him, coming out of school, you feared it, misunderstood it, and ran away from it. But Maxwell has learned to make failure his friend, and he can teach you to do the same.
"I want to help you learn how to confidently look the prospect of failure in the eye and move forward anyway," says Maxwell. "Because in life, the question is not if you will have problems, but how you are going to deal with them. Stop failing backward and start failing forward!"

"A man must be big enough to admit his mistakes, smart enough to profit from them, and strong enough to correct them." ~ John Maxwell
---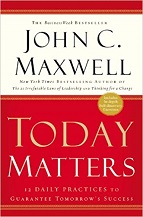 Today Matters (Paperback)
336 Pages | ISBN: 978-1931722520

Lots of books claim they can change your life. But how many actually teach you how to take the many small steps that lead to success each and every day of your life? Now in Today Matters, motivational teacher and best-selling author John C. Maxwell shows you how to seize the day. In this hands-on and inspiring guide he offers twelve daily practices to help you control your daily agenda, make time for people you love, and find success in your career. There's a great time to begin a more successful life. It's called today.
Most of us look at our days in the wrong way: We exaggerate yesterday. We overestimate tomorrow. We underestimate today. The truth is that the most important day you will ever experience is today. Today is the key to your success. Maxwell offers 12 decisions and disciplines-he calls it his daily dozen-that can be learned and mastered by any person to achieve success.

"Learn to say 'no' to the good so you can say 'yes' to the best." ~ John Maxwell
---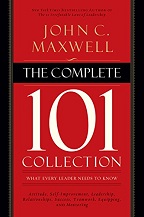 The Complete 101 Collection (Paperback)
624 Pages | ISBN: 978-0718022099

The Complete 101 Collection includes material that in true Maxwell style helps readers reach their potential at any stage in their career. It can be thought of as a crash course in leadership, a practical tool to sharpen the core fundamentals every professional needs.
Contents include a 101 on attitude, self-improvement, leadership, relationships, success, teamwork, equipping, and mentoring. Each 101 book is an introduction to a subject, not the "advanced course." This concentrated collection of books helps readers on their way to significant growth in specific areas of their lives.

"A leader is one who knows the way, goes the way, and shows the way." ~ John Maxwell
---
The Difference Maker (Hardcover)
184 Pages | ISBN: 978-0785260981

What can make the difference in your life today? How can two people with the same skills and abilities, in the same situation, end up with two totally different outcomes? Leadership expert John C. Maxwell says the difference maker is attitude. For those who have ever wondered what may be separating them from achieving the kind of personal and professional success they've always dreamt of, Dr. Maxwell has some words of insight: "Your attitude colors every aspect of your life. It is like the mind's paintbrush."
In The Difference Maker, Maxwell shatters common myths about attitude—what it can do for you and what it can't. Showing you how to overcome the five biggest attitude obstacles, Dr. Maxwell teaches the skills you need to make attitude your biggest asset. Most importantly, you'll learn not only how to develop an attitude that will have a tremendous impact on career, family, and daily living, but also how to maintain that attitude for the rest of your life.

"People never care how much you know until they know how much you care." ~ John Maxwell
---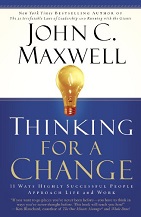 Thinking for a Change (Paperback)
288 Pages | ISBN: 978-0446692885

At the heart of John C. Maxwell's brilliant and inspiring program is a simple premise: To do well in life, we must first think well. But can we actually learn new mental habits? Thinking for a Change answers that with a resounding "yes" – and shows that your thinking can indeed change your life.
Drawing on the words and deeds of many of the world's greatest leaders, this empowering audiobook helps you access your thinking style, guides you to new ones, and step by step teaches you the secrets of:
Big Picture Thinking – seeing the world beyond your own needs and how that leads to great ideas
Focused Thinking – removing mental clutter and distractions to realize your full potential
Creative Thinking – stepping out of the "box" and making breakthroughs
Shared Thinking – working with others to compound results
Reflective Thinking – looking at the past to gain a better understanding of the future and much more…

"People buy into the leader before they buy into the vision." ~ John Maxwell
---
Have you read any of these John Maxwell books? What is your all-time favorite John Maxwell book? Let us know in the comments below!