Napoleon Hill (October 26, 1883 – November 8, 1970) was an American author and impresario who cribbed freely from the new thought tradition of the previous century to become an early producer of personal-success literature. At the time of Hill's death in 1970, his best-known work, Think and Grow Rich had sold 20 million copies. Hill's works insisted that fervid expectations are essential to increasing one's income. Most of his books were promoted as expositing principles to achieve "success" …Read More
Here are 8 of Napoleon Hill's books that you should read. You should really read all of his books, but this is a good start on the path to success. In his books, he shares advice and guides on setting your mind for success and riches.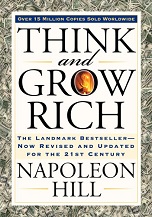 Think and Grow Rich (Paperback)
320 Pages | ISBN: 978-1585424337

Think and Grow Rich has been called the "Granddaddy of All Motivational Literature." It was the first book to boldly ask, "What makes a winner?" The man who asked and listened for the answer, Napoleon Hill, is now counted in the top ranks of the world's winners himself. The most famous of all teachers of success spent "a fortune and the better part of a lifetime of effort" to produce the "Law of Success" philosophy that forms the basis of his books and that is so powerfully summarized in this one.
In the original Think and Grow Rich, published in 1937, Hill draws on stories of Andrew Carnegie, Thomas Edison, Henry Ford, and other millionaires of his generation to illustrate his principles. In the updated version, Arthur R. Pell, Ph.D., a nationally known author, lecturer, and consultant in human resources management and an expert in applying Hill's thought, deftly interweaves anecdotes of how contemporary millionaires and billionaires, such as Bill Gates, Mary Kay Ash, Dave Thomas, and Sir John Templeton, achieved their wealth. Outmoded or arcane terminology and examples are faithfully refreshed to preclude any stumbling blocks to a new generation of readers.

"The starting point of all achievement is desire." ~ Napoleon Hill
---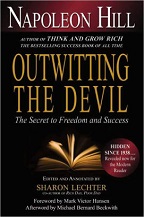 Outwitting the Devil (Paperback)
288 Pages | ISBN: 978-1454900672

In 1938, just after publication of his all-time best-seller Think and Grow Rich, Napoleon Hill revealed that he had broken the Devil's Code, forcing him to confess his secrets. The resulting manuscript – Outwitting the Devil – proved so controversial, it was hidden for more than 70 years. Now, Sharon Lechter brings us this important book, annotating and editing it for a contemporary audience. Using his legendary ability to get to the root of human potential, Hill digs deep to identify the greatest obstacles we face in reaching our personal goals – including fear, procrastination, anger, and jealousy – as tools orchestrated by the Devil himself. These hidden methods of control can lead us to ruin, and Hill reveals the seven principles of good that will allow us to finally triumph over them and succeed.
Fascinating, provocative, and empowering, Outwitting the Devil shows how to create your own path to success, harmony, and fulfillment in an age of uncertainty and fear.

"Don't wait. The time will never be just right." ~ Napoleon Hill
---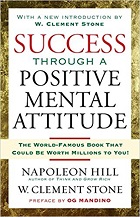 Success Through A Positive Mental Attitude (Paperback)
384 Pages | ISBN: 978-1416541592

Your mind has a secret invisible talisman. On one side is emblazoned the letters PMA (positive mental attitude) and on the other the letters NMA (negative mental attitude). A positive attitude will naturally attract the good and the beautiful. The negative attitude will rob you of all that makes life worth living.
Your success, health, happiness, and wealth depend on how you make up your mind!
When motivational pioneer Napoleon Hill and millionaire CEO W. Clement Stone teamed up to form one of the most remarkable partnerships of all time, the result was Success Through a Positive Mental Attitude, the phenomenon that proposed to the world that with the right attitude, anyone can achieve his or her dreams.
Now this remarkable book is available for the twenty-first century. You, too, can take advantage of the program that has brought success to generations of people seeking — and finding — a better way to live.

"A goal is a dream with a deadline." ~ Napoleon Hill
---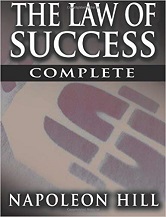 The Law of Success (Paperback)
540 Pages | ISBN: 978-1490473024

The Law of Success was a precursor to Napoleon Hill's Think and Grow Rich. Hill was well known for researching what made millionaires different from the common man. The sixteen lessons in this book perfectly crystallize everything you will need to know to succeed during these hard economic times. Many of today's best known self help books take there core concepts form this book. The Secret, the Power of Positive Thinking, the Millionaire next door, and The Law of Attraction all take their basic premises from this landmark work. Now you can get it from the source. Once you've read this book you will understand what gives certain people an edge over everyone else.
By following the advice laid out clearly herein you'll be the one with an edge. It's time to stop wondering what it's like to be rich and start knowing. This book has changed countless lives and it can change yours! Unlike many of the other editions on the market today, this edition is complete and unabridged! Wilder Publications is a green publisher. All of our books are printed to order. This reduces waste and helps us keep prices low while greatly reducing our impact on the environment.

"If you cannot do great things, do small things in a great way." ~ Napoleon Hill
---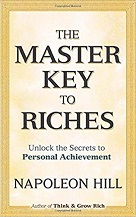 The Master Key to Riches (Paperback)
288 Pages | ISBN: 978-0486474731

Discover how to open your mind to success and wealth! Written by the author of the self-help classic Think and Grow Rich, this easy-to-read guide to personal achievement is based on the principles behind the success of Andrew Carnegie, Henry Ford, Thomas Edison, and other 20th-century tycoons. Millions of readers around the world have adopted its philosophy to attain career advancement, improve friendships and business relationships, build monetary wealth, and lead richer, fuller lives. These principles can be applied by anyone of any age, regardless of occupation or economic circumstance.
Many centuries ago a very wealthy and wise philosopher by the name of Croesus, an adviser to Cyrus, King of the Persians, said: "I am reminded, O King: and take this lesson to heart; that there is a Wheel on which the affairs of men revolve, and its mechanism is such that it prevents any man from being always fortunate."
There is a Wheel of Life that controls the destiny of men! It operates through the power of thought.
The Master Key to Riches was designed for the purpose of aiding men in the mastery and control of this great Wheel, to the end that it may be made to yield them an abundance of all that they desire…

"Patience, persistence and perspiration make an unbeatable combination for success." ~ Napoleon Hill
---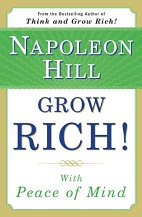 Grow Rich! with Peace of Mind (Paperback)
256 Pages | ISBN: 978-0452289338

In this exciting book, the renowned author of Think and Grow Rich, Napoleon Hill, reveals his latest discoveries about getting what you want–and making the most of it.
Here, in simple, readable language, are the foolproof techniques for achieving the power to earn money and to enjoy genuine inner peace. With Grow Rich! with Peace of Mind you will learn:
How to succeed in life and succeed in being yourself
How to develop your own healthy ego
How to win the job you want – and keep going upward
How to turn every challenge into a new success
and more.

"When your desires are strong enough you will appear to possess superhuman powers to achieve." ~ Napoleon Hill
---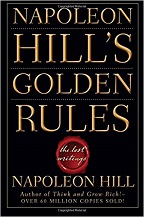 Napoleon Hill's Golden Rules: The Lost Writings (Paperback)
224 Pages | ISBN: 978-0470411568

Napoleon Hill's Golden Rules: The Lost Writings consists of a series of magazine articles Napoleon Hill wrote between 1919 and 1923 for Success Magazine, of which he eventually become an editor. Hill's obsession with achieving material success had led him from poverty stricken Appalachian Mountains with the desire to study successful people. These articles focus on Hill's philosophy of success, drawing on the thoughts and experience of a multitude of rags-to-riches tycoons, showing readers how these successful people achieved such status. Many of his writings such as the chapter on Law of Attraction, written in the March 1919 issue, have recently basis of several bestselling books. Readers will discover principles that will assure their success if studied and put into action. Chapters include:
Lesson #1: Your Social and Physical Heredity
Lesson #2: Auto Suggestion
Lesson #3: Suggestion (Applied Salesmanship)
Lesson #4: The Law of Retaliation
Lesson #5: The Power of Your Mind
Lesson #6: How to Build Self-Confidence
Lesson #7: Environment and Habit
Lesson #8: How to Remember
Lesson #9: How Marc Antony Used Suggestion in Winning the Roman Mob
Lesson #10: Persuasion vs. Force
Lesson #11: The Law of Compensation
Lesson #12: The Golden Rule as a Pass Key to All Achievement

"Action is the real measure of intelligence." ~ Napoleon Hill
---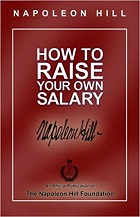 How to Raise Your Own Salary (Paperback)
310 Pages | ISBN: 978-0974353944

This new edition of How to Raise Your Own Salary is filled with foolproof techniques for acquiring the knowledge and skills for increasing your share of life's riches. The detailed dialog between Andrew Carnegie and Napoleon Hill will mesmerize you with its message. Simultaneously, this classic work will stimulate your subconscious mind to put into immediate operation your desire for individual achievement. This book will teach you how to:
Win riches, power, and prestige.
Discover how to set your own goal in life and achieve it.
Make life pay you for your personal efforts.
Uncover Andrew Carnegie's entire secret of success…

"Most great people have attained their greatest success just one step beyond their greatest failure." ~ Napoleon Hill
---
Check out these 3 Napoleon Hill audiobooks you can listen to for free
Have you read any of these Napoleon Hill books? What's your all-time favorite Napoleon Hill book? Let us know in the comments below!