Unfortunately, none of us are born with financial knowledge and most people go through life not knowing too much about finances (just enough to get by). The good news is that in today's world there is a wealth of financial knowledge out there just waiting for us to learn.
If you don't know where to start, here are 4 books to help get you on the path to improving your financial life.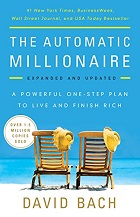 The Automatic Millionaire – by David Bach
288 Pages | ISBN: 978-0451499080

The Automatic Millionaire shows readers how to change financial practices and financial lives, beginning with a powerful story of an average Canadian couple — he's a low-level manager, she's a teacher — whose joint income never exceeds $55,000 a year, yet who somehow manage to own two homes debt-free, put two kids through college, and retire at 55 with more than $1 million in savings. The incredible message Bach delivers is that the key to getting rich is by "automating" the way to wealth "by paying yourself first," using automatic funded retirement accounts and money market accounts to secure the future and pay for the present.
The Automatic Millionaire introduces readers to a system that is powerfully simple, and automatically effective, a life-changing system that delivers. Do it once, the rest is automatic.
What makes The Automatic Millionaire unique: You don't need a budget. You don't need willpower. You don't need to make a lot of money. You don't need to be that interested in money. You can set up the plan in an hour.

---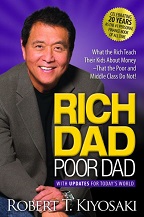 Rich Dad, Poor Dad – by Robert T. Kiyosaki
336 Pages | ISBN: 978-1612680194

"Rich Dad, Poor Dad" chronicles the story of two dads, the author's own father, who was the superintendent of education in Hawaii and who ended up dying penniless, and the author's best friend's father (and Kiyosaki's mentor growing up), who dropped out of school at age 13 and went on to become one of the wealthiest men in Hawaii.
Kiyosaki uses the story of these two men and their varying financial strategies to illustrate the need for a new financial paradigm in order to achieve financial success in the new millennium. The book explodes the myth that you need to earn a high income to be rich and explains the difference between working for money and having your money work for you.

Check out these 4 Robert Kiyosaki books you should read
---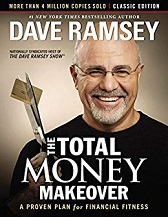 The Total Money Makeover – by Dave Ramsey
272 Pages | ISBN: 978-1595555274

Do you want to turn those fat and flabby expenses into a well-toned budget? Do you want to transform your sad and skinny little bank account into a bulked-up cash machine? Then get with the program, people. There's one sure way to whip your finances into shape, and that's with The Total Money Makeover: Classic Edition.
By now, you've heard all the nutty get-rich-quick schemes, the fiscal diet fads that leave you with a lot of kooky ideas but not a penny in your pocket. Hey, if you're tired of the lies and sick of the false promises, take a look at this—it's the simplest, most straightforward game plan for completely making over your money habits. And it's based on results, not pie-in-the-sky fantasies. With The Total Money Makeover: Classic Edition, you'll be able to:
Design a sure-fire plan for paying off all debt—meaning cars, houses, everything.
Recognize the 10 most dangerous money myths (these will kill you).
Secure a big, fat nest egg for emergencies and retirement!
Includes new, expanded "Dave Rants" sidebars tackle marriage conflict, college debt, and more. All-new forms and back-of-the-book resources to make Total Money Makeover a reality.

---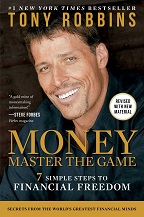 MONEY Master the Game – by Tony Robbins
688 Pages | ISBN: 978-1476757865

Tony Robbins is one of the most revered writers and thinkers of our time. People from all over the world—from the disadvantaged to the well-heeled, from twenty-somethings to retirees—credit him for giving them the inspiration and the tools for transforming their lives. From diet and fitness, to business and leadership, to relationships and self-respect, Tony Robbins's books have changed people in profound and lasting ways. Now, for the first time, he has assembled an invaluable "distillation of just about every good personal finance idea of the last forty years" (The New York Times).
Based on extensive research and interviews with some of the most legendary investors at work today (John Bogle, Warren Buffett, Paul Tudor Jones, Ray Dalio, Carl Icahn, and many others), Tony Robbins has created a 7-step blueprint for securing financial freedom. With advice about taking control of your financial decisions, to setting up a savings and investing plan, to destroying myths about what it takes to save and invest, to setting up a "lifetime income plan," the book brims with advice and practices for making the financial game not only winnable—but providing financial freedom for the rest of your life. "Put MONEY on your short list of new books to read…It's that good" (Marketwatch.com).
---
Which of these books have you read or already own? Let us know in the comments below!