Books are one of the best motivators of all times. With the right choice of books, you can start reading your way to motivation every day. Here are 6 motivational books that can be a perfect start to building your collection.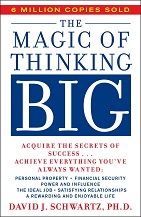 The Magic of Thinking Big – by David J. Schwartz
238 Pages | ISBN: 978-0671646783

Millions of readers have acquired the secrets of success through The Magic of Thinking Big. Achieve everything you always wanted: financial security, power and influence, the ideal job, satisfying relationships, and a rewarding, happy life.
Set your goals high…then exceed them!
Millions of people throughout the world have improved their lives using The Magic of Thinking Big. Dr. David J. Schwartz, long regarded as one of the foremost experts on motivation, will help you sell better, manage better, earn more money, and—most important of all—find greater happiness and peace of mind.
The Magic of Thinking Big gives you useful methods, not empty promises. Dr. Schwartz presents a carefully designed program for getting the most out of your job, your marriage and family life, and your community. He proves that you don't need to be an intellectual or have innate talent to attain great success and satisfaction—but you do need to learn and understand the habit of thinking and behaving in ways that will get you there. This book gives you those secrets! Believe you can succeed and you will:
Cure yourself of the fear of failure | Think and dream creatively
You are what you think you are | Make your attitudes your allies
Learn how to think positively | Turn defeat into victory
Use goals to help you grow | Think like a leader
---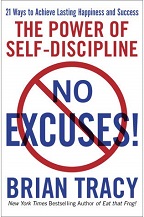 No Excuses! – by Brian Tracy
304 Pages | ISBN: 978-1593156329

Most people think success comes from good luck or enormous talent, but many successful people achieve their accomplishments in a simpler way: through self-discipline. Brian Tracy's No Excuses! shows you how you can achieve success in all three major areas of your life, including your personal goals, business and money goals, and overall happiness.
Each of the 21 chapters in this book shows you how to be more disciplined in one aspect of your life, with end-of-chapter exercises to help you apply the "no excuses" approach to your own life. With these guidelines, you can learn how to be more successful in everything you do–instead of wistfully envying others you think are just "luckier" than you. A little self-discipline goes a long way…so stop making excuses and read this book!

---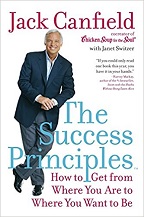 The Success Principles – by Jack Canfield
624 Pages | ISBN: 978-0062364289

In celebration of its 10th anniversary, a revised and updated edition of Jack Canfield's classic bestseller with a brand new foreword and an afterword for succeeding in the digital age.
Since its publication a decade ago, Jack Canfield's practical and inspiring guide has helped thousands of people transform themselves for success. Now, he has revised and updated his essential guidebook to reflect our changing times.
In The Success Principles, the co-creator of the phenomenal bestselling Chicken Soup for the Soul series, helps you get from where you are to where you want to be, teaching you how to increase your confidence, tackle daily challenges, live with passion and purpose, and realize all your ambitions. Filled with memorable and inspiring stories of CEO's, world-class athletes, celebrities, and everyday people, it spells out the 64 timeless principles used by successful men and women throughout history—proven principles and strategies that can be adapted for your own life, whether you want to be the best salesperson in your company, become a leading architect, score top grades in school, lose weight, buy your dream home, make millions, or just get back in the job market.
Taken together and practiced every day, these principles will change your life beyond your wildest dreams.

---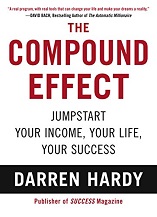 The Compound Effect – by Darren Hardy
192 Pages | ISBN: 978-1593157241

No gimmicks. No Hyperbole. No Magic Bullet. The Compound Effect is based on the principle that decisions shape your destiny. Little, everyday decisions will either take you to the life you desire or to disaster by default. Darren Hardy, publisher of Success Magazine, presents The Compound Effect, a distillation of the fundamental principles that have guided the most phenomenal achievements in business, relationships, and beyond.
This easy-to-use, step-by-step operating system allows you to multiply your success, chart your progress, and achieve any desire. If you're serious about living an extraordinary life, use the power of The Compound Effect to create the success you want.
---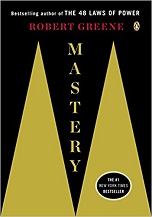 Mastery – by Robert Greene
352 Pages | ISBN: 978-0143124177

Mastery synthesizes the years of research Robert Greene conducted while writing the international bestsellers The 48 Laws of Power, The 33 Strategies of War, and The Art of Seduction and demonstrates that the ultimate form of power is mastery itself. By analyzing the lives of such past masters as Charles Darwin, Benjamin Franklin, Albert Einstein, and Leonard da Vinci, as well as by interviewing nine contemporary masters, including tech guru Paul Graham and animal rights advocate Temple Grandin, Greene debunks our culture's many myths about genius and distills the wisdom of the ages to reveal the secret to greatness. With this seminal text as a guide, readers will learn how to unlock the passion within and become masters.

---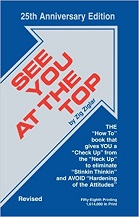 See You at the Top – by Zig Ziglar
382 Pages | ISBN: 978-0882891262

The "How To" book that gives YOU a "Check Up" from the "Neck Up" to eliminate "Stinkin Thinkin" and AVOID "Hardening of the Attitudes".
With Zig Ziglar offering advice on how to succeed, this guide teaches how to build a solid attitude foundation, promoting the value of a healthy self-image and showing how to build such an image. It clarifies why goals are important, and advises how to set them and how to reach them.

---
Do you agree with this list? How many of these books have you read or already own? Let us know in the comments below! Share which book(s) you think deserve to be on this list.