As a renowned professional speaker, author and television personality, Les Brown has risen to national prominence by delivering a "high energy message" which tells people how to "shake off mediocrity" and "live up to their greatness." It is a message Les Brown "learned from his own life and one he is helping others apply to their lives."
Here are 3 of Les Brown's books you should read if you want to start seeing a positive change in your life.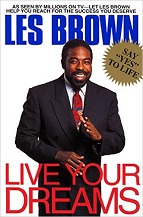 Live Your Dreams (Paperback)
272 Pages | ISBN: 978-0380723744

Do you feel worthless and talentless, with nothing more to give? Out of money, out of work, out of hope? Have you walked away from your dreams? What would it take to keep you going against the odds? Les Brown knows there is greatness within you – and he can help you set it free!
Here is Les Brown's personal formula for success and happiness — positively charged thoughts, guidance, examples, plus an Action Planner to help you focus your thoughts on specific goals…and achieve them all. The answers are all here in this astonishing book — with one simple, powerful message: We may not always be able to control what is put in our path, but we can always control what we are…and what we will become.
"No matter what life hands you, you can live your dreams!"
---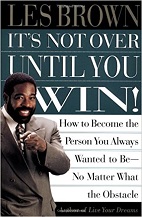 It's Not Over Until You Win (Paperback)
256 Pages | ISBN: 978-0684835280

In It's Not Over Until You Win, Les offers a powerful and inspirational plan to help people overcome any obstacle in their lives. Les Brown himself has been through countless ups and downs, suffering through personal and career crises, including the cancellation of his television show and the death of his beloved mother. In this unique book, Brown tells you how he rose from those depths and how you can, too.
Filled with the passion and exuberance that will empower you to overcome any obstacle, It's Not Over Until You Win! captures the amazing spirit of Brown's electric speaking style in a sure-fire empowerment guidebook that will galvanize anyone to take their lives to a higher level of satisfaction and fulfillment.
"It's not over until you win!"
---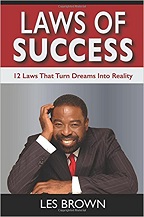 Laws Of Success (Paperback)
154 Pages | ISBN: 978-0991071234

For over 41 years, Les Brown has been one of the top speakers in the World. Through his words and his coaching, he has helped change the lives of thousands of people all around the world. As a student of success, he has discovered 12 powerful secrets that allow anyone to create the life of their dreams.
Decide today to make your future brighter than your past and make these 12 laws work for you. With the help of these 12 Laws of Success, you will discover and unleash that greatness.
"There is greatness within you!"
---
Have you read any of Les Brown's books? What is your all-time favorite Les Brown book? Let us know in the comments below!