Tony Robbins is an entrepreneur, best-selling author, philanthropist and the nation's #1 Life and Business Strategist. A recognized authority on the psychology of leadership, negotiations and organizational turnaround, he has served as an advisor to leaders around the world for more than 38 years. Author of five internationally bestselling books, including the recent New York Times #1 best-seller Money: Master the Game, Mr. Robbins has empowered more than 50 million people from 100 countries through his audio, video and life training programs. He created the #1 personal and professional development program of all time, and more than 4 million people have attended his live seminars. ..Read More
Here are 3 motivational books written by Tony Robbins that you should read at least once in your lifetime. You will learn lessons of self-mastery that enable you to learn your true purpose and take control of your life. Learn how to harness the power of your mind and do anything you want in life!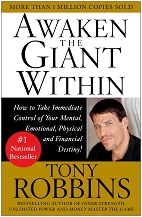 Awaken the Giant Within (Paperback)
544 Pages | ISBN: 978-0671791544

Wake up and take control of your life! From the bestselling author of Inner Strength, Unlimited Power, and MONEY Master the Game, Anthony Robbins, the nation's leader in the science of peak performance, shows you his most effective strategies and techniques for mastering your emotions, your body, your relationships, your finances, and your life.
The acknowledged expert in the psychology of change, Anthony Robbins provides a step-by-step program teaching the fundamental lessons of self-mastery that will enable you to discover your true purpose, take control of your life, and harness the forces that shape your destiny.

"It is in your moments of decision that your destiny is shaped." ~ Tony Robbins
---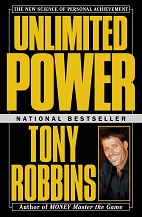 Unlimited Power (Paperback)
448 Pages | ISBN: 978-0684845777

If you have ever dreamed of a better life, Unlimited Power will show you how to achieve the extraordinary quality of life you desire and deserve, and how to master your personal and professional life. Anthony Robbins has proven to millions through his books, tapes, and seminars that by harnessing the power of the mind you can do, have, achieve, and create anything you want for your life. He has shown heads of state, royalty, Olympic and professional athletes, movie stars, and children how to achieve. With Unlimited Power, he passionately and eloquently reveals the science of personal achievement and teaches you:
How to find out what you really want
The Seven Lies of Success
How to reprogram your mind in minutes to eliminate fears and phobias
The secret of creating instant rapport with anyone you meet
How to duplicate the success of others
The Five Keys to Wealth and Happiness
Unlimited Power is a revolutionary fitness book for the mind. It will show you, step by step, how to perform at your peak while gaining emotional and financial freedom, attaining leadership and self-confidence, and winning the cooperation of others. It will give you the knowledge and the courage to remake yourself and your world. Unlimited Power is a guidebook to superior performance in an age of success.

"If you do what you've always done, you'll get what you've always gotten." ~ Tony Robbins
---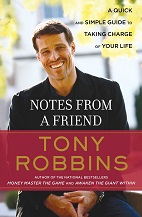 Notes from a Friend (Paperback)
112 Pages | ISBN: 978-0684800561

Now updated with new material, Notes from a Friend is a concise and easy-to-understand guide to the most powerful and life-changing tools and principles from Anthony Robbins, bestselling author and an international leader in peak performance.
Starting in 1991, a self-published version of this book has been handed out to thousands of people in need, as part of the Anthony Robbins Foundation's Thanksgiving "Basket Brigade." The book helped so many individuals overcome the most challenging circumstances that people repeatedly asked to purchase it for themselves and for their friends. Now, for the first time, it is available to you in this special, updated edition containing new material.

"A real decision is measured by the fact that you've taken a new action. If there's no action, you haven't truly decided." ~ Tony Robbins
---
Have you read any of these Tony Robbins books? What is your all-time favorite Tony Robbins book? Let us know in the comments below!